WELL WHY NOT PIMP IT HERE TOO.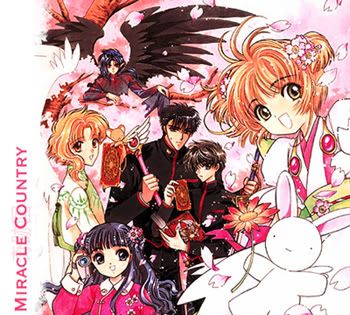 HI FLIST. In case you've never paid attention to any post of mine ever, I run a game called Kiseki over at InsaneJournal. It's been around for several years now, and it's an all-CLAMP game. Meaning stuff CLAMP actually wrote, so things like the mangas, Horitsuba or Blood-C are YAY while things like Code Geass or the MKR anime are NO D:

We're a small, silly, cracky and generally sparkly jamjar-type game, with pretty laid-back AC requirements. Insanejournal means you get 100 icons for free, so you can abuse CLAMP's pretty artwork. We can offer iconsets for many characters, and even make new ones or offer scans if it's a chara we've never made one for.

And now I'm gonna c&p what

buddha_loves_me wrote for the latest round of ATP because it's faster, ohoho

CHARACTERS WANTED:
Blood-C: Itsuki, Tadayoshi

Chobits: Chii, Freya, Minoru, Yuzuki, Shinbo, Shimizu, Chitose... everyone! [Currently we have: Hideki, Yumi, Icchan.]

Cardcaptor Sakura: Syaoran, Yukito/Yue, Eriol, Fujitaka, Kero, Tomoyo, Spinel Sun, Kaho, Nadeshiko, etc. [Currently we have: Sakura, Touya, Clow Reed.]

TB/X: TB!Subaru, Aoki, Karen, Nataku, Satsuki, Yuuto, etc [Currently we have: Kamui, Kotori, pre-choice!Fuuma, Subaru, Kakyou, Keiichi, Seishirou, Hokuto, Arashi, Sorata, Yuzuriha, Kusanagi.]

xxxHOLiC: Watanuki, Haruka, Kohane, Mokona, Maru & Moro. [Currently we have: Yuuko, Doumeki, Himawari, Spider Matron, Yaobikuni, Ame-Warashi, Zashiki Warashi.]

Tsubasa Pre-Tokyo Sakura & Syaoran, Post-Tokyo Syaoran, Real!Fay, Piffle or Nihon Tomoyo, Seishirou, Subaru, etcetc (lots of minor characters are playable!) [Currently we have: Real!Syaoran, Clone!Sakura, Mokona, Kamui, Fuuma]

Magic Knight Rayearth: Umi, Lantis, Ascot, Emeraude, Zagato, Caldina, Ferio, etc. [Currently we have: Hikaru, Fuu, Eagle.]

Dukylon: Erii, Sukiyabashi. [Currently we have: Kentarou, Takeshi.]

RG Veda: Yasha-ou, Kujaku, Souma, Ryuu-ou, Karura-ou, Taishakuten, Ashura-ou. [Currently we have: Ashura, Karyoubinga, Gigei, young!Yasha (Yama), Kendappa-ou.]

Legal Drug (/Lawful Drug/Gohou Drug/Drug & Drop): Kakei, Saiga [Currently we have: Rikuou, Kazahaya.]

Kobato: Okiura, Ginsei, Genkou, Toshihiko, etc [Currently we have: Kobato, Fujimoto, Sayaka, Suishou, Ioryogi.]

WISH: Kohaku, Shuichirou, Kokuyo, Hisui, etc [Currently we have: Koryuu.]

Legend of Chun Hyang: Chun Hyang [Currently we have: Mong Ryong.]

Clover: Oruha, Ran, Gingetsu [Currently we have: Suu, Kazuhiko.]

OTHERS: We would love anyone from Angelic Layer, Horitsuba, or older CLAMP series such as the CLAMP Campus Detectives, Suki, etc.!


tl;dr: JOIN UUUUUUUUUUUUUUUUUSSSSS.